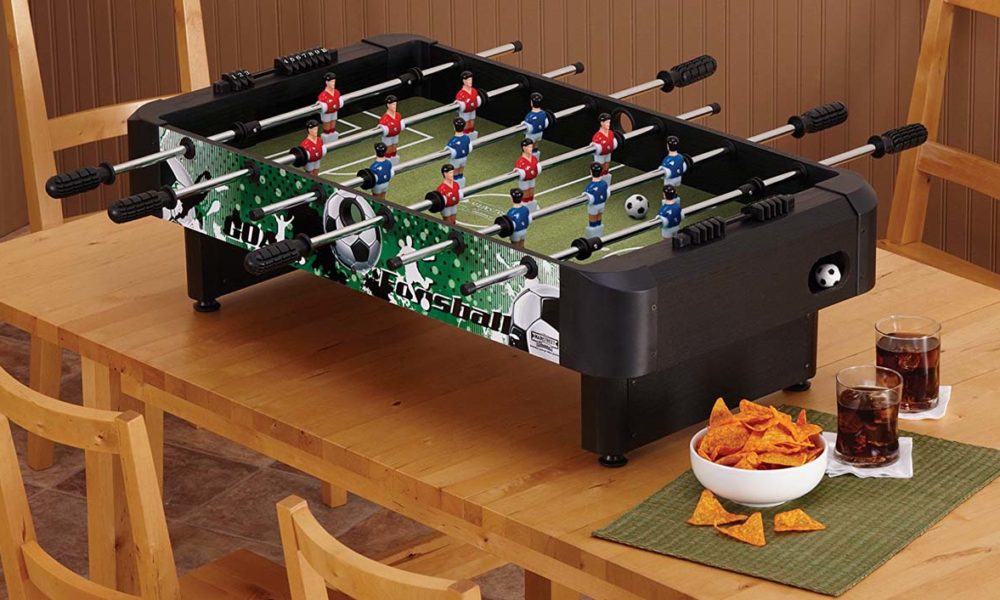 Foosball is a great table top game that's been keeping people of all ages entertained for years. It originated back in the early 1900s in the United Kingdom and since then has been taken up as favorite pastime by various people all over the world. The inspiration for the game's design came from a box of matches while the rules and play of the game is largely based on a type of football/soccer.
So, what makes a good table top foosball table?
Before you set off to buy your next table top foosball soccer table, there are a few things to bear in mind. Firstly, you want to make sure that it's relatively sturdy and not going to slip off the table mid-game. Foosball is great fun but can get quite rowdy, so something flimsy just won't do. Also, be aware that table top foosball tables come in different sizes. Don't just assume because it says table top it will be sufficient for your table. Take the time to get some measurements to avoid any disappointment.
To help you in your search, we've put together a list of the top 5 table top foosball tables available currently.
This mid-priced table top foosball table would make a great addition to any game room, patio, or other favorite hangout space. At 38 inches, it's longer than many other table top foosball tables, squeezing in 6 goalie configurations for added enjoyment. It's also of a sturdy construction that is high quality, complete with steel rods, and non-slip rubber handles as well as levelers for perfect ball return. This Havril table top foosball table is pretty easy to assemble and disassemble and comes equipped with a manual built-in scoring unit too. You don't need to worry about damaging any surfaces either as it has non-marking pads and stable legs.
Verdict: This table top foosball table is an all-around good buy. It feels solid when playing it and doesn't slip at all. The only thing I would say is that although assembly is quite easy, it does take a while to fully set up. It may not be the cheapest on the market, but is definitely good value for money. Overall rating: 9/10
If you have a few extra dollars to spend you want to consider this table top foosball table. With the Mainstreet Classics Foosball Game, you get six rows of players spread across 36 inches. There are also two manual sliders for keeping track of goals. It features a dual-end ball return and is big enough to provide hours of entertainment for people of all ages yet compact enough to be easily stored away for later use.
Verdict: Being one of the more expensive table top foosball tables out there, you would expect it to be very well made and packed full of features, but sadly only half of that's true. Although it is really sturdy and stays out while playing, there's not really much extra that you're getting for your money. Overall rating: 8/10
Trademark Foosball Table for Kids by Hey! Play!: This competitively priced table top foosball table will keep the kids happy for hours. At just 20 inches, it's much smaller than many other table top models out there, but you can still have some fun nonetheless. With 4 rows of 3 players and a manual scorer, there's nothing holding you back from playing like a pro with this table. It's lightweight and takes up hardly any space at all, making it the perfect addition to just about any room. It also comes complete with all the tools you need to set it up and get you playing.
Verdict: The quality of this table top foosball table may not be as good as some of the pricier models out there, but as far as budget games go, it's not too bad. It is a little fragile so is best suited to younger kids. Overall rating: 7/10
Another of the larger table top foosball soccer tables, the Sport Squad FX40 is a force to be reckoned with. At 40 inches long and with 6 goalie configurations, you'll soon forget you're playing on a table top version all together. Having chrome-plated steel rods allows players to make stronger, faster shots while the plastic players have been specifically designed to improved accuracy when shooting and passing. The playing field itself is made of strong MDF and the legs are L-shaped levelers to ensure maximum stability and a perfect ball return.
Verdict: This may be one of the more expensive table top foosball tables on the market, but it's well worth the money and I would recommend it to anyone. It's well-built, looks good, and is suitable for people of all ages. What more could you possibly want? Overall verdict: 10/10
A mid-priced table top foosball table, the T&S 27-inch foosball game is great for everyday use for both adults and kids. At 27 inches it's moderately sized—not too big and not too small. Built using high-grade wood and upgraded steel rod handles, this foosball table won't let you down when it comes to quality or durability. There are 6 goalie configurations and a classic sliding scoreboard for keeping track of who's winning. The players are much more detailed than many of the others you get in table top foosball tables.
Verdict: The quality of this table top foosball table is pretty good and you can see that a lot of attention has gone into the detail. However, it does feel a little flimsier than some others available for a similar price and for that reason would probably not be suitable for older children/adults. Overall rating: 8/10