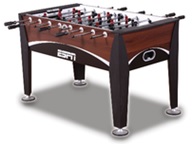 Widely regarded as being the crème de la crème in foosball tables, Tornado offers tournament-style products with beautiful play surfaces and high-end parts designed to execute complex shots. Tornado Sport foosball tables are appreciated by the most serious seasoned players and are also viable options for new buyers to the foosball table market. The Tornado name has become synonymous with tournament style foosball; they have been creating high-end tables for over 40 years and have been used in commercially in bars and foosball halls across the country. Well regarded for their American styling and construction, Tornado offers foosball tables that are carefully engineered to enable maximum power, control, and gameplay. Impeccably constructed, Tornado tables are built with high-quality parts and a real attention to detail. Found on all of their tables are hard level surfaces designed to facilitate fast and rapid gameplay, thoughtfully engineered players that allow for maximum control of the ball, and a plethora of commercial-grade finishes and parts that truly set these tables apart from the rest in the industry. Read on below to see a thorough review and comparison of some of the best Tornado foosball tables available for families and pros!
1. Tornado Tournament 3000 Foosball Table
Priced at $1900, the Tournament 3000 from Tornado is a professional-style table featuring high-end, commercial-grade parts and construction that have earned it accolades throughout the foosball table industry. Featuring lightweight foosball rods, counterbalanced men, adjustable leg levelers, and a sturdy cabinet design the Tornado has all the trimmings to make even the most discriminating of foosball players happy. Equally relevant in a tournament play setting as it is for home use, the Tournament 3000 is a premium table with unparalleled levels of versatility.
| Price | Product Dimensions | Product Weight |
| --- | --- | --- |
| $1900.00 | 56" x 30" x 36" | 225 lb |
Pros
Stainless steel laminate
ITSF certified practice table
Patented player design for better ball control and passing
Adjustable leg levelers and commercial-grade legs
Counter balanced players
Tournament-grade foosball bearings
Cons
Heavy weight
No coin-operated ball return
---
2. Tornado Madison
The Madison is one of the newest product offerings from the Tornado brand. With its Queen Anne style legs and mahogany finish, this table has a high-end furniture design that enables it to be seamlessly blended in with your home's décor. Don't be fooled by its fancy looks though; the Madison is a pro table and features commercial grade rods, counterbalanced players with a patented toe design that offers maximum ball control for better shots and gameplay.
| Price | Product Dimensions | Product Weight |
| --- | --- | --- |
| $2199.00 | 56" x 30" x 36" | 225 lb |
Pros
Patented Tornado foosballs
Natural solid wood handles
Durable cabinet walls
Adjustable leg levelers
Steel chrome-plated rods
Flat laminate playing field
Cons
Heavy
Unique vintage look may be hard to match in some commercial settings
---
3. Tornado Coin Op 2000
The Tornado Coin Op 2000 is a commercial offering from the company that comes in a flat gray or marbled cabinet design. Featuring a modern table top and carefully engineered players that delivers maximum ball control, the Coin Op 2000 is an outstanding choice for any commercial setting.
| Price | Product Dimensions | Product Weight |
| --- | --- | --- |
| $350.00 | 59" x 33" x 35" | 185 lb |
Pros
Competition-sized table for serious players
Furniture-quality wood veneer finish
Solid foosball rods
Weighted and counterbalanced foosball players
Comes complete with all accessories
Cons
Traditional style players with rounded toes make snake shot execution difficult
Heavy weight
---
4. TornadoSport Foosball Table
Replacing the "Whirlwind" model, the Tornado Sport is a table with a more accessible price point than some of the other Tornado offerings. An excellent table for beginners, this table features many of the distinctively high-end components that define the Tornado brand, such as counterbalanced men, thick and durable cabinet construction, wooden handles, adjustable leg levelers, and a proprietary player foot design for maximum precision in ball control.
A new and thinner inner bearing design does not allow the ball to be passed between the man and the wall. Patented rubber bumper player and rod guarantee super-fast durable play. One unique feature of this Sport table is the ability to adjust the height to two different settings for younger players. See more at: http://www.foosballsoccer.com/sport1.html#sthash.eZat5tit.dpuf
The Sportcraft Hartford is a two-toned beauty with a mahogany colored finish accented with black trim. The classic color profile on this table makes it a great option for home use, as it will blend in seamlessly with other home décor easily.​
| Price | Product Dimensions | Product Weight |
| --- | --- | --- |
| $950.00 | 56" x 30" x 36" | 205 lb |
Pros
Redesigned proprietary player foot design for maximum ball control
Patented rubber bumpers for fast-paced gameplay
Adjustable height to accommodate all player heights
Thick, durable cabinet construction
Adjustable leg levelers
Mahogany Melamine finish
Cons
---
5. Sportcraft ESPN Striker Foosball Table
The ESPN Striker is an exciting foosball table product offering from Sportcraft that features ESPN emblems throughout its construction. Priced at just $315, this table features adjustable leg levelers and a melamine wood playfield table surface geared towards fast-paced gameplay.
| Price | Product Dimensions | Product Weight |
| --- | --- | --- |
| $315.00 | 56" x 29.5" x 34.5" | 115 lb |
Pros
Full-size table
Inset bead style scoring
Adjustable legs
Melamine wood playfield surface
Cons
Slightly pricier due to ESPN branding
Robot style players don't accommodate advanced ball control
---
Sportcraft has a wide array of tables available for every taste and budget! Their offerings range from entry-level tables for the budget conscious to premium tables showcasing furniture-grade materials that are sure to please seasoned foosball players and aficionados alike. If you are looking to buy a new foosball table, be sure to check out what Sportcraft has available. With their decades of business and storied heritage rooted in family fun and entertainment, Sportcraft is one of the most viable companies on the market for quality foosball table offerings. With their vast array of options and trims and a staggering number of designs, you will definitely find the table of your dreams!