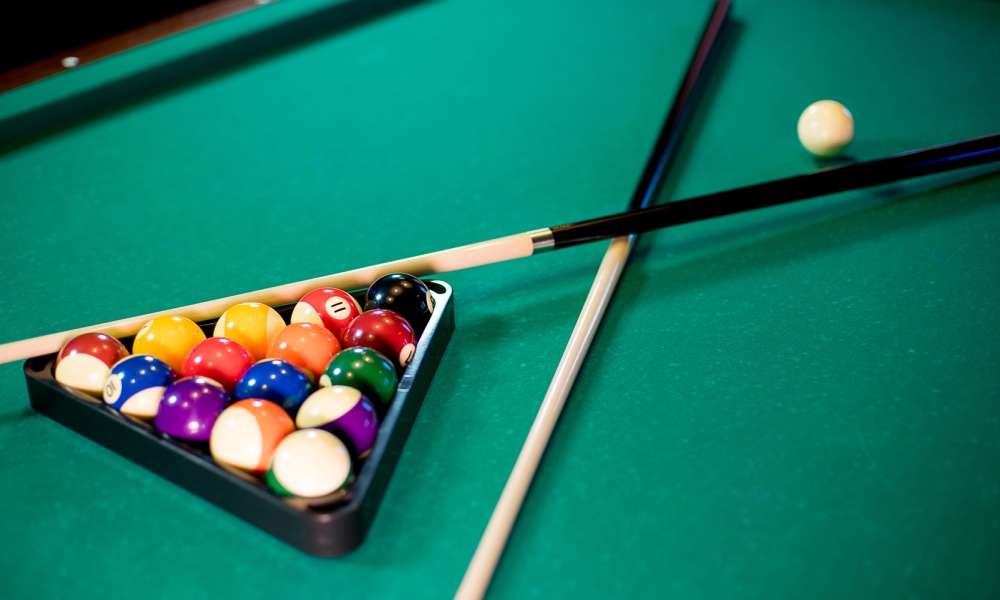 Looking for a perfect gift for your little son, nephew or godson? Want to train the children in a pool game? Searching for a small pool table for the game room to entertain the kids during a family gathering? A little pool table can be a good source of entertainment and distraction for the kids.
When one is looking to purchase a pool table, going for one of the T&S Tabletop Billiards and Pool Tables would be a good choice to make.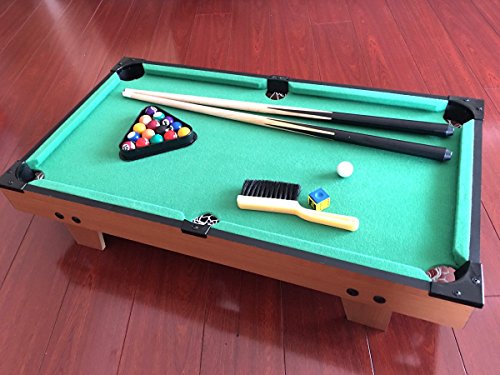 Features
Ready to use right out of the box
Pool table with legs
With two (2) cue sticks, one (1) chalk & brush included
With fifteen (15) balls & triangle rack included
Replacement parts available
With four (4) legs
Only minor assembly needed
Item weight: 7 lbs.
Product dimensions: 30 in (L) x 17 in (W) x 5 in (H)
Advantages
A T&S Tabletop Billiards and Pool Table would be a perfect gift for the little boys who are starting to get interested with billiards games or pool games. Teaching a child to play on a normal-sized pool table would be a little difficult because of its height and huge size.
Something that is similar but a little smaller will make it easier for the child to learn the tricks and play the games. One good thing about this pool table is the fact that it only needs minor assembly before it can be used. Right out of the box, this pool table is almost ready for play.
One only needs to attach the four (4) legs and then the thing is already complete and good for use. This feature would save the owners time and effort in assembling the pool table and it does not take too much work to figure out how the four legs attach to the body of the pool table.
Another good thing about this pool table is that it comes with a complete set of accessories that make playing on the pool table convenient. There is no need to worry about having to buy other accessories for the pool table because the necessary ones are already included with the purchase.
Furthermore, if the accessories get damaged or some pieces go missing, looking for the replacements will not be a problem with this pool table because replacement parts are readily available and one only needs to show the proof of purchase to acquire the necessary replacements.
Moreover, this pool table is big for its value – a benefit so that the children can feel as if they are playing on the real thing. This pool table is thirty (30) inches long but is still lightweight for its size.
With the lightweight design, the pool table can be easily transferred from one place to another – from indoors to outdoors and back and forth. This makes the pool table a nice addition to the house because it can be easily moved and transported to any place one would want it to be.
Furthermore, because the pool table is used by kids who are often rough and not cautious with their properties, it is advantageous that this one is made with sturdy construction – one that allows the pool table to withstand the force and battering from the curious and often active kids.
The quality of this pool table is also commendable, especially for the reasonable purchase price one has to pay in order to have it.
Disadvantages
It should be noted that T&S Tabletop Billiards and Pool Table is not all about praises and it also has some reported drawbacks that need to be considered before purchasing the pool table. First of all, the trim is made of plastic so it can be easily broken when exposed to blunt or sudden force.
Secondly, the accompanying balls for this pool table are made a tad bit smaller for the size of the pool table so it's a little difficult to shoot around. Lastly, the balls can also easily break when exposed to too much force.
Conclusion
If you are looking for pool action for the kids, then the T&S Tabletop Billiards and Pool Table can easily provide it. This pool table comes a little bigger than the common mini pool tables but is small enough to make kids play comfortably around it.
With the quality of the pool table paired with its sturdy construction, it is expected that the product can last years even if constantly exposed to the rough and careless handling of the kids in the house.
However, there are some issues with the accessories that come with the pool table. Nevertheless, the overall performance of the pool table is still praiseworthy. This is a good product for its value – one that can be recommended for kids to enjoy.