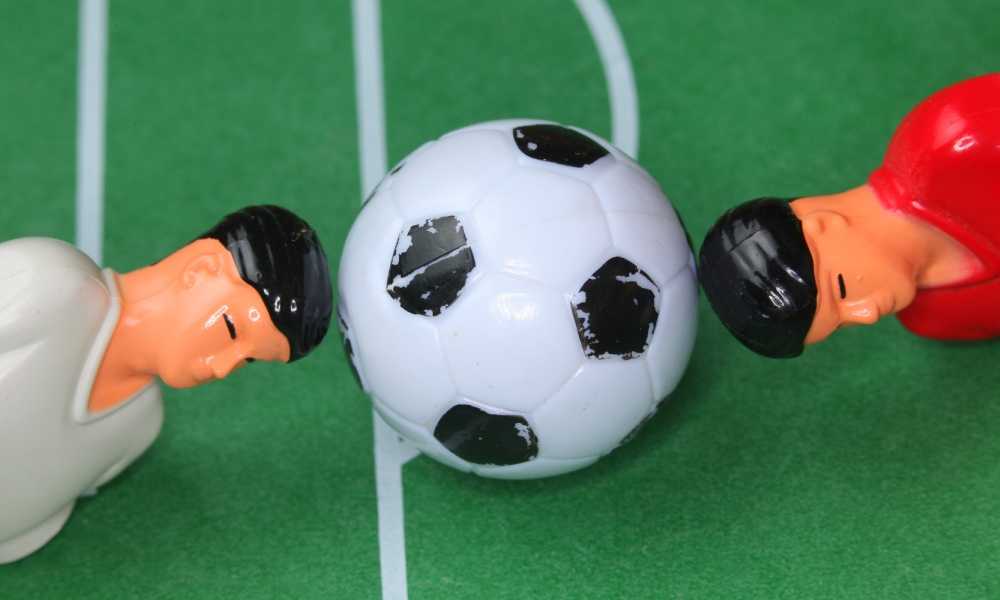 If you are looking for the ultimate gift for a child, or something to help keep the kids occupied, especially during school breaks, then you do not need to look any further than purchasing a foosball table. And if it is one especially for the children, then the Voit Radical 48-Inch Foosball Table will have them entertained for hours.
The adults can also enjoy a few games on this attractive foosball table if they are able to play on it with a lot less force than if they had a more advanced foosball table as this table in particular has been better built for the younger generations.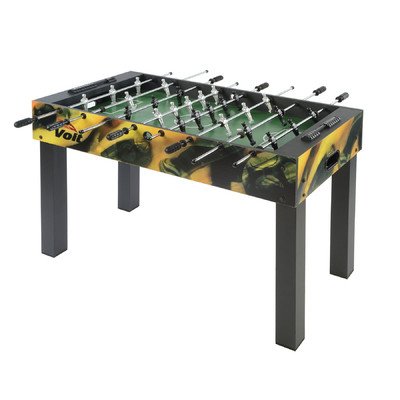 Features
Chrome-plated tubular steel rods
Manual scoring units
Three-inch table legs
Automatic ball return
Three-man goalie
Laminated cabinet with graphics package
Rubber grips on the handles
Dimensions: 48-inch length x 24-inch width x 32-inch height
Weight: 58 Pounds
4 1/8-inch blue team/ red team ABS players
Pros
The attractive graphics around the laminated cabinet enhance the appeal and excitement of this foosball table. Given that this table is mostly appropriate and structured for children, they will definitely love the attractive graphics and colours; they will be the envy of all of their friends.
The manual scoring units will help you to keep score easily. There won't be any queries on the goals scored on this table. Just slide the numbered units across when a goal is scored.
The rubber grips on the handles of the playing rods are comfortable and will ensure non-slip play action. They will help improve your performance and ball control. The rubber grips are especially great for children and beginner adults who need to learn how to hold the playing rods correctly.
The 48-inch table is an ideal fit for most spaces whether it is in a dorm room, office, or in a room within your home. This is a suitable size for the children to play on comfortably.
The three-inch table legs are sturdy and durable.
The three-man goalie setup is perfect for beginners and for children; this is not an advanced table for skilled players and so does not require a one goalie set up.
This is not a table that will take you hours to assemble while you struggle with small parts and assembly instructions that do not make sense. The assembly is quick and easy, and takes approximately one hour to build.
Cons
There are no leg levellers so this table needs to be placed on an even, flat surface, otherwise the ball may always slide into the same position of favour at one end of the table. The height can also not be adjusted; bear this in mind if you have smaller children who will want to play on this foosball table.
The structure and overall strength of this table was not manufactured with skilled adult players in mind. If you are an advanced foosball player, then this table will not be suitable for you. Adults who play fairly aggressively should also avoid this table to eliminate damaging it quickly. This foosball table is durable if played by children and beginner adult players only.
Comparison
The Voit Radical Foosball Table compares very well to other similar 48-inch foosball tables. A lot of its features are either closely similar, or exactly the same. If you were to compare the Voit Radical foosball table with the Playcraft Sport Foosball Table and the Hathaway Playoff Soccer Table, you will see that all three of them feature an exceptional appearance with their graphic designs and overall appeal.
They all have strong, chrome-plated steel rods and ABS moulded foosball men, as well as comfortable grip holders. Overall, the Voit Radical Foosball table is ideal for children and would certainly be the favoured amongst the three tables for kids, however, if you want the adults to be able to play too, then the Playcraft Sports Foosball Table will last a lot longer, but its features are still very basic with internal ball retrieval.
If you are looking to buy a foosball table to keep the children entertained, or if the foosball table will be played by amateur adults that won't be too aggressive whilst playing, then the simple features and attractive design of the Voit Radical 48-Inch Foosball Table will be a great addition to your home.
The attractive graphics and overall design will have everyone excited to play, and luckily the assembly time is under one hour; so, you will be playing shortly after you have received your foosball table. This foosball table will be perfect to practice the game of foosball on and to help you master some foosball skills.