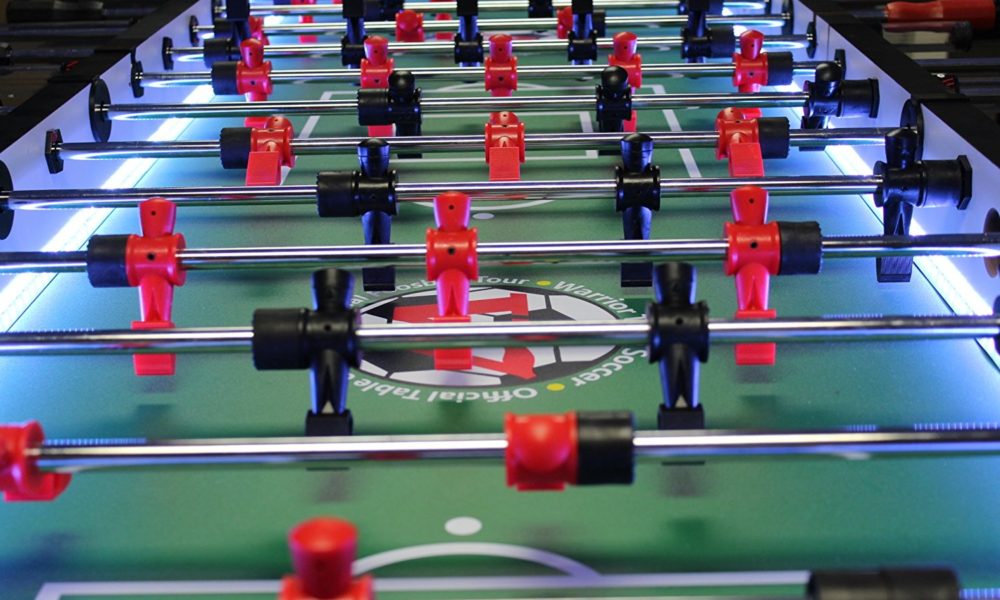 Foosball, which is sometimes called Table Football or Table Soccer, is a popular game in arcades and game rooms across the country. It is an "at-home" version of mini soccer in that players try to move the game ball past their opponents and into a goal. However, unlike regular soccer or European football, foosball is a game of hand-eye coordination in which figurines are spun and moved to block and progress the ball down the field toward the goal.
Foosball can be played by two or four players. Each player uses one or both hands to maneuver the figures that are connected to long sticks. Professional foosball tables have eight poles, half of which are operated by each player (for a two player game). The poles are spun with a flick of the wrist intended to have the foosball man "kick" the ball toward the goal. If you get a goal in the foosball game, the soccer ball will go into your opponent foosball player's ball return to continue play.
The game is played recreationally and can be found in a variety of places, but there are also competitive professional foosball leagues. Players that have achieved the highest level of foosball skill have the opportunity to play in the World Cup or World Championship of Foosball, both of which are played on a yearly basis. The International Table Soccer Federation launched in 2002 and the group works to spread the popularity of foosball and promote it as an Olympic sport.
Obviously, not everyone who plays foosball will rise to the top and participate in professional foosball competitive play. However, if you're interested in the soccer table game and you'd like to bring a foosball table into your recreation or game room, there's a few things you should know.
Different Tables
When the time comes to shop for a foosball table, you have choices. There are several brands, but within those brands you'll essentially find two main types of tables. The first is the stand-alone table. This is the larger of the two options and in most cases is going to be the more expensive. The other option is the tabletop table that is placed on a separate stand-alone table.
The type of table that's right for you depends on a few things. First, you'll want to consider your budget. If you're designing and outfitting an entire game or rec room, you might need to cut costs somewhere and a tabletop foosball table is a great way to do this. You get all the foosball fun without all of the expense.
It's also important to consider the amount of space you have. If you buy a standalone foosball table you'll need room for another table in the room. If you're tight on space, you can buy a tabletop table that sits on another table that can be multi-purpose when it's not in foosball use.
Finally, you'll want to consider the skill level of the players. If you're just buying the table for kids to have fun, there's not much reason to invest in a top of the line standalone table. On the other hand, if you want to have quality games in your rec room and the people using the space plan to play foosball on a regular basis, even if they aren't planning to go pro, and well-made standalone table can be a great investment.
One option you have is to buy a table that offers more than just foosball. These tables are designed for game room use and are really good for people who are just starting to assemble their game space. In addition to foosball, these tables offer you other games, including checkers, shuffleboard, hockey, and backgammon. Sometimes these tables are more expensive than the usual tabletop games, but rarely are they more than the standalone foosball tables. And you need to consider you're getting several games in one, so what you invest in the foosball table you'll save not needing to buy as many other games.
What Features to Look for in a Foosball Table
Now that you know the basic table style you want, you can narrow your options down even further before you shop. Regardless whether you get a tabletop or standalone table, you'll want something that's well-made and durable so it lasts a long time. Foosball game, even those that are not professionally competitive, can get intense, so it's important to have a game table constructed of the best materials.
A good rule of thumb is to look for a table that's sturdy and made of wood that is more than a half-inch thick. This means it's less likely to warp over time and it will be able to sustain the weight of play. Your game won't play the same if the wood warps and the flatness of the table is affected. The best tables are made from oak or composite materials, but these are also the most expensive options. Depending on your needs, you'll want to find the sturdiest table in your budget.
You'll also want to look for a table that has hollow steel rods because they allow you to play longer without getting tired. And if a table has adjustable legs, it means you can vary the height of the table based on the players playing. Most foosball tables are 36 inches high, which is perfect for teens and adults, but tends to be too high for little kid.
Warrior Foosball Tables
Warrior Foosball Tables are some of the best in the industry. They are the official table of the Warrior Pro Foosball Tour, and are used by the ITSF and the United States Table Soccer Federation. Warrior tables are made from high-quality, durable materials.
Warrior tables are made from solid MDF and are able to be assembled in under 30 minutes. The company also offer a variety of foosball accessories that make it fun and easy to play.
If you're looking for a great foosball table and equipment, check out the following Warrior products:
Warrior Professional Foosball Table
Professional quality foosball table by Warrior that retails for about $600.
Warrior Table Soccer 8 Man Foosball Table W/LEDs
Advanced 8-player table for people who take their foosball serious. Retails for about $3000 with shipping.
8 Warrior Table Soccer Pro Game Foos Balls
Eight pack of Warrior replacement foosballs that retails for about $36.
Warrior Foosball Wraps (set of 4)
Rod handle wraps in different colors that make controlling your game easier. Four pack retails for about $10 plus shipping.